Browsing articles in "Meet Your Neighbor"
By Callie Thomas
You've got to admire someone who has the ability to juggle many things in the air and still keep their wits about them. 89128 resident Mark Mathews is one of those enviable people. By trade, Matthews works full time for Clark County as a Supervising Systems Technician, and as he describes it, he supervises fourteen IT geeks that support nearly 5,000 computers. He is also the Chief Steward of the county's Supervisor Unit for SEIU 1107. Although his job keeps him pretty busy making sure that all systems are go, he also volunteers his time to support a Las Vegas charitable organization as part of the county's leadership role.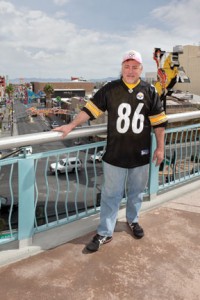 Matthews' choice has been the Susan G. Komen Race for the Cure, the annual fundraising event in which he's been the Operations Chairperson for the past eight years. What that means is that Matthews and the operations team are responsible for all the "stuff" that actually makes the race happen. Every detail from set up to tear down and everything in between falls on the shoulders of Matthews and the rest of the team. Signs: check. Stage: check. Food, banners, barricades, trash cans, sponsor expos, porta-potties, Nevada Highway Patrol, AMR medics, pace cars, survivor recognition; check, check and more checks add up on their "to do" list. It's hard to believe that with a list that long Matthews would consider himself a self-proclaimed procrastinator… with controlled ADD. He said that he has procrastinated again this year, waiting just days before the May event to pull it all together, which he's continued to do flawlessly. The rest of the time he enjoys other passions such as football, particularly the Pittsburgh Steelers as he's originally from Erie, Pennsylvania. Mark Matthews talks about his role with the Komen Race, his yearly football tradition and a couple of things even his friends might not know about him.
How did you first become involved in the Komen Race for the Cure?
"The Leadership Forum (a program sponsored by the county for its employees) encourages team members to provide about forty to fifty hours of volunteer time with various local organizations. I had waited until the last month to do most of my volunteer work when the Susan G. Komen Operations Chairperson at the time talked myself and a friend into becoming Assistant Chairs and said it would amount to ten to twenty hours of volunteer time. His estimate fell a 'little' short, but eight years and hundreds of hours later, I am still procrastinating getting ready for the annual event. Incidentally, the Leadership Forum program not only introduced me to Susan G. Komen, but it was also responsible for me meeting the love of my life, Karen Cale-Powell, a native Las Vegan and reason for me staying in Vegas."
The Komen event is a huge undertaking. Any experiences you'd like to share?
"On the Sunday after the race, you can pretty much find me sleeping about thirty-two hours straight. Actually, it is so wonderful to support the people that work so hard to help so many women and men affected by something they have no control over."
Tell us about your other passion.
"I am a huge football fan. I'm also an avid sports better, so my girlfriend Karen and I started a Super Sunday tradition of going to a 6:30am mass at St. Francis de Sales and then going to the LV Hilton sports book to have a champagne brunch, place a few bets, then go to a local pub to watch the game."
If you weren't in your present career, you would be…
"A high school or college football coach."
Tell us something you think your friends might not know about you.
"They'd probably find it funny that I worked for the Cleveland Browns and Indians for seven-ish years, even though I'm such a huge Steelers fan… and they'd want to know where I get my fireworks for our annual 4th of July extravaganza, but I'll have to leave them guessing."
By Callie Thomas
When you were growing up, there was probably one teacher you had that stood out, whether it was for their teaching style or how they inspired you to learn. Students who attended schools in Las Vegas would probably include 89117 resident and educator Clarice Donnelly on that list.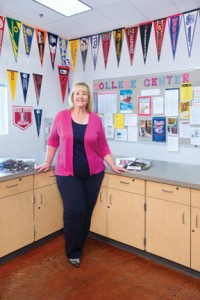 Both Clarice and her late husband Mickey Donnelly trekked from Ohio to Las Vegas thirty-six years ago to become teachers with the Clark County School District. Over the years, Clarice has taught kindergarten and fourth grade, been part of the Reading Improvement Program, worked as an Educational Computing Strategist for two elementary schools, and has opened and served as the Site Coordinator for the College of Southern Nevada High Tech Centers by Palo Verde High School and Western High School. She has also taken on special assignments to train teachers on software to help bring technology into their classrooms. Clarice has also provided counseling services for nine years to middle school students, while her current duties involve serving as Scholarship PLUS Coordinator at The Public Education Foundation.
While Clarice has held her current position as Scholarship PLUS Coordinator for the past two years, she's supported the program for a decade, coinciding with the death of her husband. Friends wanted to honor his memory since he was a counselor at Johnson Junior High School, the school attended by their two daughters, so the Mickey Donnelly Memorial Scholarship was created. Clarice discusses her involvement with the fund along with other initiatives that inspire, nurture and support the youth of our community.
Tell us about the Mickey Donnelly Memorial Scholarship.
"It goes to a senior who attended Johnson Middle School and will be attending college in Nevada. One of the best parts about working with the scholarship program is seeing these students succeed and hearing their stories."
Are there any experiences through your work with the Foundation's scholarship program that you can share?
"Overseeing the Foundation's scholarship program has been such a fantastic experience. This year, we're giving out nearly $800,000 to more than 450 students. For many seniors, the Foundation's scholarships are what make their college dreams possible. One story that sticks out is a 2012 graduate of Cheyenne High School. This student was accepted to Harvard University but was $1,000 short of the required funds to get him there. He was able to obtain the remaining funds through one of the Foundation's scholarships and is now about to start his sophomore year at Harvard."
You are also busy overseeing the Foundation's We R Community Program?
"Yes. The program is currently in fourteen high schools where a high school classroom receives a $5,000 donation and they act as their own nonprofit organization and decide how to grant the funds. They learn how to develop a mission statement and review grant applications. They research, interview and visit nonprofit organizations that support their mission statement, and the class sends grant applications to targeted nonprofits. In May, the school holds an award ceremony to present the funds."
So is it safe to say that you are passionate about education?
"Well, first and foremost, I am passionate about our daughters. I feel fortunate to have Krista and Kara, who both love and like me. I'm also passionate about working with students who are applying for scholarships and seeing them succeed."
What are you most proud to have accomplished?
"Being the first in my family to attend college was a huge accomplishment for my entire family. Moving to Las Vegas with my husband and having and enjoying our daughters are my proudest moments."
If you weren't in the education field, is there anything else you would like to do?
"I have truly said many times if I had my life to live all over again, I would want to be in Las Vegas and be involved in education. I feel so fortunate to wake up and still enjoy going to work."
By Callie Thomas
Imagine what life would be like without passion. It's what spurs athletes to win, doctors to find a cure and men and women to do what's right – whether it be for their fellow neighbor or for their own families. Living without passion is simply not an option for 89123 resident Erika Pike Turner. It's evident in her passion as a wife and mother, in her job as a partner and litigator at Gordon Silver and in her work advocating for abused and neglected children in Nevada's foster care system. In fact, Turner has been awarded many times over for her passion for giving a voice to those that do not have one. She's received the Myra Williams Award for Pro Bono Services for Children, a Senator Harry Reid Commendation for Pro Bono Services and a United States Commendation for Pro Bono Service. She's also regularly recognized by the Pro Bono Project for services that qualify her for the 50 Hours Club and 100 Hours Club.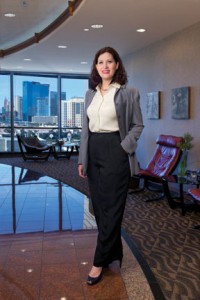 The fourth generation Las Vegan is proud to be making a difference within the community and happily raising a fifth generation of caring, passionate people: her children Alexander and Cassandra with husband Brad. For the past fifteen years, Turner has helped her clients as a commercial litigator by aggressively pursuing their goals in court or through arbitration and mediation. Throughout the last decade she's also provided her extensive knowledge and expertise free of charge to ensure that the children in the system know that the court and the "system" care about their wants, needs and dreams. Erika talks with us about what drives her, working with the Clark County foster care system and how success comes with perseverance and grit.
Why is giving back to the community so important to you?
"There are people that come in and out of Las Vegas, but the core that lives here with an intention to stay need to do something to help make the community better. This is my home and I am happy to volunteer my time."
How did you become interested in working with the Clark County foster care system?
"My sister is a social worker. She works day in and day out with Nevada's abused and neglected children and the frustrations of trying to get them the services or homes they need in the context of our broken and under-funded system. Hearing her stories, I resolved to help. I don't think there is anything as important as helping a child, and the pro bono work I do for the Children's Attorney Project is certainly the most important legal work I do."
Any experiences that you could share?
"There are so many stories, but as a result of my obligation to keep communications with the kids confidential, I can never paint a complete enough picture for people to really appreciate the experience. Suffice it to say, people do horrible things to children, and despite some wonderful people opening up their hearts and homes, there is an enormous need for advocacy to ensure that these children have a chance at a better life."
What accomplishments make you proud?
"I have many accomplishments in my career, most of them involving a client resolving a dispute, but there's no accomplishment better than seeing my kids succeed."
As a fourth generation Las Vegan, do you have a favorite Las Vegas moment?
"I can't pick just one. April 4, 1998 at the top of the Rio (the VooDoo Lounge) when my husband clumsily asked me to marry him; going to Alpine Village restaurant when I was a kid and to Red Rock with my family for a Sunday morning hike and marveling at the beauty."
You have said that with success comes laundry. Care to explain?
"Working so many hours and with a full house, I do an enormous amount of laundry. While it isn't a hobby, it has certainly become a longstanding pastime."
 By Callie Thomas
"Never doubt that a small group of thoughtful, committed people can change the world.  Indeed, it is the only thing that ever has." – Margaret Mead
What began as a few people with a common goal of protecting abused and neglected children has grown into a state-wide resource that has made an enduring difference. April is Child Abuse Prevention Month and there is no better example of the commitment to serving the public and instituting preventative initiatives then the dedication of 89074 resident Susan Deems Roske.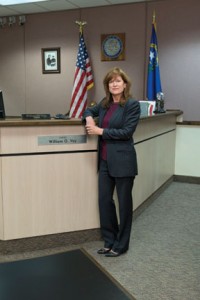 The forty year resident has seen much throughout her career, which has compelled her to help those who cannot help themselves. She's been a social worker with the State of Nevada, and after attending law school in California, Roske was hired by the Public Defender's Office and has been representing children in the juvenile delinquency court for over twenty-five years. After seeing children who are victims of sexual exploitation being prosecuted, Roske joined with an influential group of people including Juvenile Court Judge William Voy, Assistant District Attorney Teresa Lowry and UNLV Professor Alexis Kennedy to create a nonprofit foundation to help young victims and keep them out of the delinquency system. Thus, the PSEC (Protecting Sexually Exploited Children) Nevada Foundation was formed.
PSEC's mission was later expanded to include all sexually abused and sexually exploited children, and the name became the Sojourn Foundation. Roske is the current chair and also serves on the Advisory Board for the National Juvenile Defender Center (NJDC) and as Co-Chair of the Western Region. The compassionate public servant, wife and mother of four talks about starting a nonprofit, affecting change and protecting the rights of our youth.
What was it like starting a nonprofit from scratch?
"We found out it is not a simple task and realized that we needed to be educated as to how to be an effective board. We were very fortunate to have received a federal grant which allowed us to retain a consultant to educate us and help expand our board and reshape our mission. Sojourn Foundation has started to lay out a clear vision for what the organization will grow to be…the leader and voice in our community for children who have been sexually abused and exploited."
How is the Sojourn Foundation assisting these children?
"Sojourn Foundation is in its start up phase and is developing a very strong Board of Directors and leadership team. Sojourn Foundation will introduce a centralized point of entry for all child victims of sexual abuse and their families and provide high quality, evidence informed care and treatment for these children, regardless of their involvement with traditional systems of care. Sojourn will improve the care for and treatment of children who are affected by sexual exploitation in Southern Nevada by creating a 'safe house.' Our website is www.sojournfoundation.org."
Congratulations on being recognized for your achievements in juvenile justice.
"Thank you. It was a great honor to be acknowledged by the Clark County Public Defender, Philip Kohn. He selected me for his annual Scott H. Waitt Award for excellence in criminal defense."
What do you do when you're not busy with the Foundation or your work with the juvenile justice system?
"I love spending time with my family. I've been married to my husband Randall for thirty years, and we've raised four children. I like physical activity and we have always enjoyed the outdoors, camping, hiking, biking and spending time at our cabin in Brian Head, Utah. I'm also a member of Developing Gardens and Family Farming, a nonprofit started by my daughters and their friends to create a community garden in the southeast part of the valley."
If you could do any other job in the world, what would it be?
"I can't see myself in any other job. I love what I do."
By Callie Thomas
It seems apropos that accomplished cardiologist and 89052 resident Robert Shiroff was also a recipient of the American Heart Association's Heart of Gold Award. If you're going to trust your heart to any doctor, it should be someone with experience, compassion and a whole lot of heart.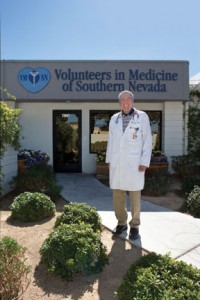 Although born and raised in Philadelphia, Dr. Shiroff has been a Henderson resident for the past thirty-five years, and he fills the bill and then some. Along with Dr. Michael Sawaya, he created one of the largest cardiology practices in Nevada (then known as Cardiovascular Consultants of Nevada) and he has also served as the former Affiliate President of the American Heart Association on both a local and national level. Now retired, his current focus and passion is serving as a volunteer cardiologist and a board member of Volunteers in Medicine of Southern Nevada (VMSN), a non-profit group that provides free quality health clinic services to the uninsured and unemployed in the community. Shiroff's compassionate nature fits well with the culture at VMSN, which is built on caring for the neglected and unseen. It is estimated that one out of seven people are uninsured in America, and there are approximately 580,000 uninsured in Nevada alone. The volunteer medical team at VMSN provides preventative health care which reduces overall hospital costs and assists in ultimately decreasing taxpayer burden.
Shiroff is not only foremost in his field, he's a loving husband to wife Angie, father to five children and grandfather to their soon-to-be nine grandchildren. He's proud to give back to the community where he's made his life. Shiroff talks about his experiences with the organization, his five rules for living and his love of theatre, particularly The King and I.
What prompted you to become involved with Volunteers in Medicine?
"You always hear that if you work hard, you will bear the fruits of your labor. Yet, there are so many people who are working hard and have found themselves struggling. They may have been laid off or experienced a medical emergency. I'm glad to lend a helping hand."
You treated patients every day at your former practice. What is different about VMSN?
"No one said life is easy, and it's not. Our patients just need that extra helping hand. I can feel their sincere appreciation when I see them and they know that someone really cares."
The group recently had its annual star-studded fundraising ball. Were your efforts successful?
"More than $380,000 in donations was raised during the Fourth Annual Ball this past October. Over 500 guests attended and the event was emceed by Wayne Newton and featured other entertainment performances. With this support, we can improve the lives of so many of Southern Nevada's working families as they persevere through difficult times."
Of your many accomplishments, what are you most proud to have achieved?
"I am most proud of my children and their accomplishments – even more important, the kind of people they have become!"
As a father of five and grandfather of almost nine, you must have some words of advice?
"I have developed a few rules for living along the way:
 You are responsible for your actions and      the consequences of your actions.
You cannot control the actions of      others; you CAN control your responses (back to rule 1).
He who has the gold rules; if you      pay for it, you decide how it goes!
Pick the hill you are going to      die on – in other words, pick your fights.
As a parent, you have the right      and responsibility to give advice to your children; they should listen      with respect; they can do what they choose, unless rule #3 applies."
So, if you weren't a doctor, you'd be on Broadway as the King of Siam?
"I would love a career in theatre – singing, dancing and acting – if I had the talent!"
By Callie Thomas
As parents, we want to give our children every opportunity to fulfill their deepest dreams, whether that is becoming a baseball or football player, a pop singing sensation, the next great chef or even a movie or Broadway star. With a great deal of support and determination, anything is possible when you have someone like 89012 resident Cheryl Ruettiger making a difference in the community. Ruettiger has dedicated herself to helping youth fulfill their dreams as Executive Director of the Rudy Foundation, which she co-founded with her then husband, Rudy Ruettiger, the inspiration behind the blockbuster film Rudy. The Rudy Foundation is a nonprofit organization that recognizes those who aspire to fulfill their dreams through character, courage, contribution and commitment. Ruettiger has developed a series of scholarship showcases to benefit students and sports teams as well as theater and dance groups.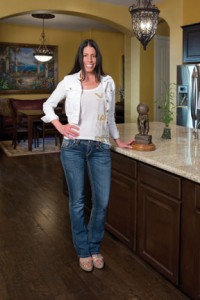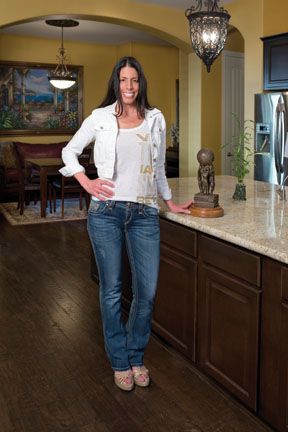 To meet Cheryl Ruettiger is to become immediately drawn by her genuine optimism, passion and enthusiasm for building helpful relationships, focusing on the good in people and creating experiences that positively impact the community. As a self-proclaimed night person, she works tirelessly into the later hours, creating and promoting programs for the foundation. This includes the upcoming Master of the House Showcase of ensemble musical theater talent that will feature productions performed by local high schools and theater groups in a competition to earn scholarship funds. Her own dream for this year is to build a theater where Las Vegas youth can come together to rehearse, perform and put on great shows for the community. Ruettiger talks about her passion for rewarding and encouraging young people for their accomplishments and the inspiration she draws from her own children.
This year, you are focusing on the performing arts through the Rudy Foundation?
"I am blessed to have had the opportunity to produce events for the Rudy Foundation and to work with so many influential performing arts leaders over the years. The experience I have acquired is a valuable part of my continued journey with talented youth and adults in America. It has greatly contributed to expanding my vision to realize my dream of funding a performing arts theater in Vegas and provide them with an opportunity to live their dreams."
Tell us about the Master of the House Showcase.
"I've teamed with Erik Ball, the multi-talented director, producer, teacher, actor, singer and radio personality, to bring about this exciting production this month at Faith Lutheran. The competition provides local high schools and theater groups with an opportunity to earn scholarship funds. The show will be emceed by Maggie Wheeler, best known for her role as "Janice" on the hit TV show Friends. A professional panel will review the performances and award the top three groups, with the top honor of Master of the House going to the school earning the highest score. It's fast-paced musical theater with a competitive edge and an element of surprise!"
What is the accomplishment you are most proud to have achieved?
"I will never forget giving birth to my kids, Danny and Jessica, right here in Vegas and creating the Rudy Foundation."
What inspires you every day?
"My kids inspire me all the time. My son Danny loves soccer and hockey, and you can also catch him singing on the stage from time to time. My daughter Jessica loves the performing arts. Every day, you will find her singing, dancing or doing both performing in a show."
Do you sing or dance?
"I like singing in the car! I've also enjoyed producing a short film called This is My Dream to share positive messages that help others believe in themselves and build character and confidence and overcome struggles on the journey to their dreams."
Do you have a favorite life inspiration or quote you'd like to share?
"Let the rhythm of your heartbeat drive you toward your dreams."
By Callie Thomas
It is apropos that Cale Ramaker's most memorable Vegas experience would take place while he was flying into town for the first time during a lightning storm. Not that he was nervous or that he particularly relishes lightning storms. It's that he enjoys flying on planes and is content being "up in the air," much like the George Clooney character in the Oscar nominated movie of the same name. During the dance in the sky, the city lights still shone bright, making it a memorable welcome for the new 89144 resident. That was eight months ago, and Ramaker's since settled firmly into the city and onto our television screens as part of the KLAS TV 8 morning news team.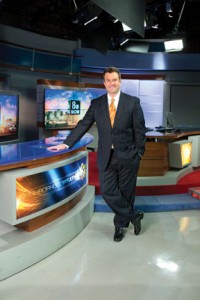 Although born and raised in Bellevue, a suburb of Seattle, Ramaker has spent a bit of time traveling. He attended the University of Arizona, where he began broadcasting basketball and baseball play-by-play, which landed him his first gig in television as a sportscaster. He then joined local news stations in Lubbock, Texas and Medford, Oregon, as well as Lansing, Michigan. While Ramaker could definitely be described as an extremely loyal sports fan, he was approached about becoming a news anchor and moved around the country again to places like Minneapolis/Saint Paul and Orlando, Florida. Las Vegas eventually came calling, and he's happy putting down roots at his new home in Summerlin and integrating himself within the community.
Ramaker brings a passion for helping others through organizations that have personal meaning. This includes Big Brothers/Big Sisters (BBBS) as a mentor and overseeing a family scholarship that had been started in honor of his late grandfather over twenty years ago. Ramaker talks about his work with BBBS, his love of sports (Denver Broncos and Washington State Cougars) and why hopping on an airplane is just another way of unwinding.
Tell us about your work with the Big Brothers/Big Sisters organization.
"I have been a mentor for about seven years now. I'm involved in two facets, really. First, I've mentored a now sixteen year old young man, Marius, in Orlando since 2006. I started out tutoring Marius weekly while he was in middle school. We've spent the last six years or so in the traditional community based mentoring environment. Even though I've moved from Orlando, Marius and I keep in close touch. I'm so proud of what a strong character he's developed and how he has tangible goals after graduating high school."
And the second?
"I oversee a BBBS scholarship our family started in honor of my late grandfather, Colby. He was the national Big of the Year in 1985 for his work in the Marin County/San Francisco area. Colby passed away in 1987. I lead the Marin County/North Bay BBBS organization in soliciting and electing annual scholarship winners. I also oversee the financial activity of my grandfather's scholarship."
 You must be proud of your work with the organization.
"It's been a blessing to watch Marius grow from a timid pre-teen to a solid young man. I'd like to think I played even the smallest role in helping him develop a good worldly sense of priorities and making the right decisions."
How great was it to combine your love of sports with your career?
"I am a very loyal fan. I was at the Denver Broncos playoff game and I don't miss their games on TV. I have season tickets to Washington State football."
Tell us something you think your friends and others might not know about yourself.
"Every now and then, I'll just hop on a flight and fly somewhere random to unwind. A few times, I've come right back. Also, apparently I throw good parties. At least that's what I'm told. They could be awful for all I know."
What makes you successful?
"Honestly, I don't look at myself as successful. I think I'm still evolving toward that… I hope. I'm blessed and I've worked hard, but I'm still working to be successful, professionally and personally."
By Callie Thomas
Apparently, art does imitate life. 89135 resident Dr. Yevgeniy Khavkin has often been compared to the ABC television character Doogie Howser, M.D., the sixteen year old physician. Yevgeniy also became interested in medicine at a very early age. Growing up, he observed his mother, a pediatric surgeon, in the operating room and knew he wanted to do the same. Yevgeniy started medical school at the age of sixteen, a few years later than Doogie, but went on to become a young neurosurgeon specializing in minimally evasive treatments of spine disorders. Yevgeniy's wife Jeannie also watched as her mother, a neonatal critical care specialist, received enormous gratitude from the parents of her young patients and was determined to follow her mother's example by becoming a doctor.  She completed her residency in head and neck surgery, followed by a fellowship in facial plastic and reconstructive surgery.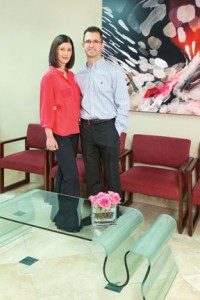 Together, the doctors have not only been instrumental in caring for their patients, but they also help others locally and internationally through their humanitarian efforts. Here in Nevada, the doctors lend their expertise to the Helping Hands Surgical Care organization. Yevgeniy is a former president of the Russian American Medical Association and donates time to MiraMed, which helps to secure a healthy and productive life for disadvantaged children in Russia. He also assists Jewish Healthcare International and Eagle Condor International. Jeannie is a founding board member of Smiles for Survivors Foundation, which provides oral rehabilitation to breast cancer survivors. The two share a profound love for each other and their family and are passionate about helping others and giving back to the community. They talk about their charitable efforts here and abroad, as well as the roots they've planted in Las Vegas as residents for the past two years.
While you are both involved in individual nonprofit organizations, you both assist Helping Hands Surgical Care.
Yevgeniy: "Yes. It is a Las Vegas based nonprofit whose mission it is to provide medically necessary surgeries for uninsured Nevadans. As you know, surgery is very expensive, and while there are many surgeons such as ourselves who donate surgical time, there are other costs associated with undergoing surgery. Helping Hands was created to obtain support from the community to help pay these costs."
Jeannie: "Being involved in organizations that provide services to benefit members of our community has been a very rewarding experience."
We hear that you have also lent your musical talents to help support the community?
Jeannie: "Both Yevgeniy and I share a love of music and we recently performed at Doctors in Concert, which benefits Nathan Adelson Hospice. Yevgeniy played guitar and I accompanied him on piano."
Your have also lent your support internationally. How does it feel to know you are making a difference abroad?
Yevgeniy: "Doing international humanitarian work is a very humbling experience and puts things in life in a very different perspective. We would recommend that everyone gets involved in these kinds of organizations, especially young adults deciding what to do with their lives."
As relatively new residents of Las Vegas, what are your most memorable experiences so far?
Jeannie: "Our two children were both born right here in Las Vegas!"
Although it is highly unlikely, if you were not doctors, what other career or job would you choose?
Jeannie: "I studied music at an early age and aspired to become a concert pianist. I'm also a foodie and we often go on an adventure in search of a good meal, especially when we travel."
Yevgeniy: "Since we bought our house in the Ridges, I've discovered that I enjoy interior design."
What do you attribute your success in life to?
Yevgeniy: "We love each other and our family and we love what we do professionally. One of our favorite inspirational quotes is by Francois Constantin, 'Do better if possible and it's always possible.' "
By Callie Thomas
If it is said that behind every great man is a great woman, it is very possible that behind every great young man is…his mom. While many a teenage boy would be mortified at the thought of being seen at school or, heaven forbid, around their friends with their mom, the tide may be turning and the mom-son duo is becoming more in vogue. Take red carpet events, for instance. Justin Timberlake, the Jonas Brothers, and even Justin Bieber have chosen mom rather than their latest gal pal to escort in front of millions of prying eyes and just as many cameras. 89128 resident Karen Wofford and her sixteen year old son Ryan can also be added to the list of successful mother-son duos in the Las Vegas community. As the VP of Communications for the Young Men's Service League (YMSL) of Las Vegas, Wofford and her son have had invaluable opportunities to make a difference in the community.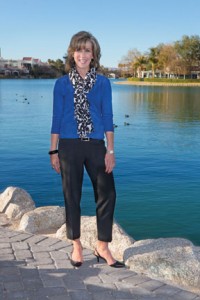 Charity and giving back is an important part of the Wofford home. Karen learned at an early age to be charitable and she has instilled that philosophy within her own family. Through her work and relationships formed throughout the community, many opportunities have presented themselves to volunteer their time to support those in need. The list of organizations that Karen and Ryan have assisted over their last year with the Young Men's Service League is lengthy and includes Joy Prom, Miracle League, Operation School Bell, Atria Senior Living, Toys for Smiles, Street Teens and Clark County Family Services just to name a few. Wofford talks about what it's like to volunteer with her son, their experiences through the organization and why it's more important than ever to give back to the community.
It seems that throughout your life, you've always made time to volunteer.
"I have always volunteered at my children's school, whether it's lunch, fairs, supplemental math curriculum, parties, and I have also volunteered at my church. Last February, I was asked to become a member of YMSL Las Vegas. I liked the idea of philanthropy work, but what made it more appealing is the work would be done with my son. Having had a marketing background with The Howard Hughes Corporation, Summerlin Division and as Director of Marketing for Newland Communities for the downtown renovation under former mayor Oscar Goodman, I was asked to join the board as VP of Communications."
Are there any standout experiences through YMSL that you could convey?
"One of the events we attended was Joy Prom. It is a prom for 300 physically and/or cognitively disabled adults. My son was paired with Claudia, a forty-six year old woman who had cognitive impairment, to be her escort and I served as chaperone. Claudia was adorable, so full of life. Our purpose was to make her comfortable and ensure she had a wonderful time, but she made us feel comfortable with her big hugs, huge smile and genuineness. Both Ryan and I had an amazing, unforgettable night."
You and your son have also volunteered for the Miracle League?
"I was in the cheering section with the moms and Ryan was the helper to a seven-year-old Down syndrome boy. He took him to bat at home plate then started to pitch to him. He pitched more than twenty balls, but finally the young boy got a hit. All the moms were clapping and cheering him on and he was thrilled to be receiving recognition for his accomplishment. After the game, his mother came up to Ryan and sincerely thanked him for being so kind and caring to her son."
What would you say is your most meaningful accomplishment?
"My two sons, Justin and Ryan, with my husband Mike."
How does it make you feel to give back?
"Every time I volunteer, it makes me a more compassionate person. There is so much need in our community, and I am in awe of the number of charitable people that live in Southern Nevada."
By Callie Thomas
Ever wonder what a little time, dedication and "sweat equity" will get you? For some, it could mean their first home. No, it's not a new HGTV show; it's Habitat for Humanity, with help from Troy Simmons. The 89117 resident grew up learning about electrical contracting and residential building alongside his father and two brothers. Those experiences led Simmons to realize his dream of owning his own business – Northern Lights & Fans. Over a fourteen year period, the effort grew to four locations and an association with Habitat for Humanity that will last a lifetime.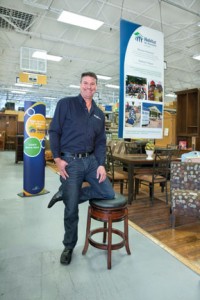 Habitat for Humanity helps to build homes for working families who can't afford to take on the task themselves. It is about a hand up rather than a hand out. They provide the tools for families and hard working individuals to make their dream of owning their own safe home come true. By helping families create a home, a stronger community bond can be formed.
Habitat's ReStores sell reusable and surplus building materials to the public. Funds raised are used to support the building of homes. Many of the items sold in the ReStore are donated and include furniture, home accessories, building/construction materials and appliances. Simmons has enjoyed creating and running his own business and began his association with Habitat for Humanity by donating unused fans, lights and other materials to Habitat ReStores. For the past two years, he's been equally proud of his work as the Director of Retail Operations for the organization's three ReStores in Las Vegas. Simmons talks with us about his work at the ReStores, how some of the families in the community have benefitted from the program and why making a difference is so important to this fifth generation Nevadan.
Why did you become involved with Habitat for Humanity Las Vegas and the ReStore program?
"The organization's philosophy follows my core belief of helping others help themselves. It's amazing what changes take place with children and families when there is a place to sink down roots."
To begin that process, the families in the program have to lend a hand too?
"Yes. Habitat requires that each family complete 300 hours of volunteer work called 'Sweat Equity' with the organization before owning their own home."
Are there any particular experiences you could share about the families you meet through the program?
"One particular family was really struggling to get their required sweat equity hours earned. They had four young children and both parents were busy with full time jobs. After months of hard work, the reward finally came after they had moved into their new home. The parents and the children were walking through the ReStore when their four year old little girl ran over to me and excitedly told me they were buying a garbage can and hose for the garden being planted in their new back yard. Each child was beaming as they shared the projects they were working on to make that residence a real home."
In addition to helping fund the organization's goal of building homes, what other ways do the ReStores serve the community?
"By recycling and reusing, the ReStores make a positive environmental impact. The stores also provide on the job training as part of a state job placement program. With the struggling economy, many of those wanting to be employed lack the skill set and employment history necessary to get back in the job market. Habitat trains those individuals and gives them the opportunity to gain valuable experience."
How do you unwind after a busy day?
"Having a glass of merlot with my partner Eric or cooking. I love to find unique ingredients to create something new and unexpected. Sometimes those experiments turn out great and others not so well. I learned to appreciate friends that will bravely attempt to eat the meal then break down in laughter on the second bite."