Browsing articles in "Meet Your Neighbor"
 By Callie Thomas
It's been said that home is where the heart is but for resident Katherine Foley, it's also about finding  the perfect home for Nevada house hunters. Falling into a career in real estate was as easy as breathing for the long time resident. Her passion for homes and home building started in high school, working for her father, who was the owner of Security Housing Corporation. During college, she sold real estate for his Northern Nevada Division of the company and also worked for the Northern Nevada Home Builders Association while attending and later graduating from the University of Nevada, Reno with a B.S. in Business Administration. She eventually became Executive Vice President for Christopher Homes, a position she held for more than twenty years, and currently still handles sales at their Boulder Ridge community at The Ridges in Summerlin.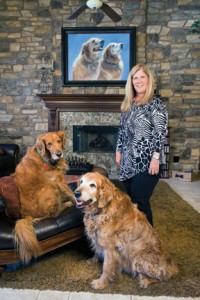 Today, she is the President and Broker for The Foley Group, a real estate firm that works with both new and resale homes in the valley. While she enjoys helping others attain their very first or forever home, she also enjoys spending time in her own abode with husband Mark and their children Jack and Rogina, along with their two golden retrievers. Her two furry residents have been the catalyst for another passion—saving and protecting animals in need throughout the community.
Foley is on the Executive Board for the Nevada Society for the Prevention of Cruelty to Animals (Nevada SPCA). The organization operates a no-kill animal sanctuary, promotes humane education and serves as an advocate for the companion animals in their care. There is no "time limit" for the animals in residence at the Nevada SPCA, and they are welcome until they find their forever new home. She supports the group by being involved in a number of initiatives to raise awareness and funding, including specialty-themed events. Katherine Foley talks about her efforts with the Nevada SPCA and her commitment to giving back to the community she loves.
What drew you to the Nevada SPCA?
"I have always been a dog lover and enjoy the unconditional love my two golden retrievers provide and they are a part of our family and very special to me. I've also met some amazing people by being involved with this organization, from the other board members, the Executive Director, the Honorary Board members, staff at the shelter and volunteers. They all genuinely care about animals and their well being."
Tell us about some of the SPCA events you have helped to create and support.
"We put on some fabulous events such as our annual Animals in Wonderland Champagne & High Tea, which featured a red carpet/silent auction with local celebrities in attendance and live musical performances. Our most recent Funny Bones Comedy Show at the Orleans this past June was a giant success. An amazing line up of comedians assembled by the legendary Sammy Shore included Rich Little, Tony Orlando, Amazing Jonathan & Psychic Tanya, Zowie Bowie and so many more."
Why is it important to you to give back to the community?
"This community has been very good to me and to my family. I believe if you give you will continue to receive and help the less fortunate."
What accomplishments are you most proud to have achieved?
"Being a good mother to my children and watching them grow into young adults."
What do you think makes you successful?
"Who I am, how I was raised, and who I share my life with makes all the difference. I am a very fortunate person but have also worked very hard to achieve my success. I think character, honesty and passion are equally important."
By Callie Thomas
"Love isn't an emotion or an instinct – it's an art." – Mae West
The American Film Institute listed Mae West fifteenth among the greatest female stars of all time. The actress, singer, playwright and screenwriter made a name for herself in vaudeville and became best known for her bawdy double entendres. While West may have had less than pure thoughts behind the quote above, it is certain that her godson, 89117 resident Trey Louis Noran, has taken the art of love for helping others to another level.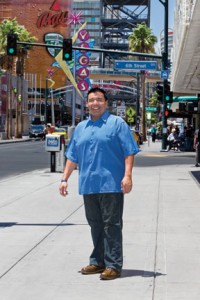 Noran may have followed his godmother's footsteps in the entertainment industry by landing small acting and commercial parts, singing backup vocals and traveling between Las Vegas and Hollywood, but he also knew a thing or two about lending a hand to those in need.
Born Louis Anthony Olguin to parents Gloria and Louis Olguin in Denver, Colorado, he spent his first years in west Denver, an area known for despair. His widowed mother eventually placed him in a private boys school called Clayton College for Boys, and he later graduated from Rose Ministry. His passion for helping the homeless led to creating a nonprofit organization called His Love Street to provide those on the streets with food, clothing, shelter, education, career development and health care. Noran moved to the community last year when he saw that the needs were sadly twice as prevalent in Las Vegas. His Love Street – Nevada was born, and Noran has already amassed several events with local media and those in the entertainment field to help change things for the better here in Nevada.
Noran is not only raising funds to help the immediate needs of the local homeless population, but also to realize a dream of developing a homeless hotel in Nevada. He talks with us about those aspirations and his passion for making a difference.
What is the mission of His Love Street?

"I started the nonprofit organization to transform our inner city and the lives of those facing homelessness, poverty and hopelessness. I believe together, as a community, we can end chronic homelessness and reduce the number of people on the streets in Las Vegas."
Meeting so many in need, you must have many memorable experiences.
"Seeing so many homeless people in Vegas and learning that they are living under the city in sewers has been difficult, but knowing we'll be able to make a huge difference has made a significant impression on me."
How are you currently raising funds to help?
"Through my Love Corporation, we are marketing my trademark 'Real Men Love 2 Cuddle' T-shirts and opening a restaurant called Ice/Mex Takeout this winter, which combines Mexican food and twenty flavors of ice cream. All proceeds from sales of T-shirts and Ice/Mex will go to feeding the homeless and construction to build the multimillion dollar hotel. I'm also working on a giving back concert at the end of August at the Wolf Theatre featuring musical performances by newcomer Brett Mikels plus Luggnutt Keyz, Jennifer Knight and Supreme Reflections to raise money to open not only a hotel but also several outreach centers to give that helping hand to those that are seeking a second chance in life."
What do you envision for the His Love Street Hotel?
"The hotel will include a clinic, commercial kitchen, private showers, a barber, laundry facilities, a library, dentist, counselors and a beautiful outdoor courtyard. We intend to employ our guests in several areas, such as our hotel tower, clinics, book store, clothing store, and our 700-seat state of the art Olguin's Restaurant. We anticipate serving more than 10,000 people each year."
That's an enormous undertaking. How do you unwind after a busy day?
"With a glass of wine and the thought that I am very blessed."
 "Is there anything besides being the godson of Mae West that others may not know about you?
"When I set my mind on anything, I don't ever give up until I reach my goal."
By Callie Thomas
It's the music that has become legendary. The unforgettable harmonies and indelible dance rhythms of the one and only Bee Gees are re-created six nights a week at the Excalibur by the multi-talented Michael Clift (a.k.a. Barry Gibb), David Scott (a.k.a. Robin Gibb) and Wayne Hosking (a.k.a. Maurice Gibb). Not only are they exceptional musicians and performers who have entertained audiences from all over the world with their uncanny resemblance and similar sound to the original group, they're also local 89123 residents who have become our neighbors, entrenched within the Las Vegas community as they enjoy the local lifestyle, send their children to school and help give back through many local nonprofit organizations.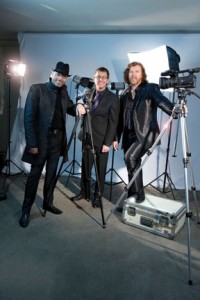 Originally from Australia, the trio formed the Bee Gees tribute group in 1996, because "nobody else was doing it" and they had been touring together for fifteen years before landing in Vegas in 2011. Since that time, they've not only had to adjust to the welcome opportunity of going to work in the same showroom every night, but they have also put down roots for their families, building a life within the community in the process.
Each member of the Australian Bee Gees is passionate about supporting local organizations that have special meaning to them, including nonprofits such as Shade Tree, Four Square, Partee Fore Kids Event, Supply Our Students Drive, many local blood drives, Clean the World and other charities. The three gave us an inside look at the personalities behind the performances, making the move from Australia to Las Vegas and becoming part of the community.
How did you all meet?
MC: "My band Red Tape won Battle of the Bands for two years and secured a record deal and released several singles before becoming a part of Australian Bee Gees."
DS: "I played guitar in a small town at an early age. In high school, I met others who could play songs by ear and we put together a band. Our parents were members of local clubs and got us gigs. We didn't get paid, but we got free soda! Years later, I auditioned and was welcomed into a tribute group to the Eagles, which soon became the Australian Bee Gees."
WH: "I started as a solo pianist in bars around Melbourne, Australia. I then worked with an Australian playwright named Craig Christie, with whom I composed a rock opera called "Crusade" which won a lot of critical acclaim in Australia and Europe. I was invited to the Bee Gees tribute company in 1996."
What's it been like becoming a part of the Vegas community?
MC: "We had been touring for many years, so there was some adjusting to this lifestyle. It's probably the closest thing to a normal job that I've ever had. My family moved over in 2012 and both my kids started going to school. That's the point where you start to meet people out of the circle of your industry and feel like you're living here rather than just working here. This year, my wife is the vice president of the PTA at our kid's school!"
Tell us about the local charitable organizations you support.
WH: "We feel very privileged to be able to live and work here in Las Vegas and give back. Clean the World provides hygiene packs for local homeless people made of the amenity packs from the hotels and casinos here."
DS: "I support the Shade Tree charity that provides food and shelter to women, children and vets."
MC: "World Vision and Medicine Sans Frontiers are long term commitments of me and my family, and since arriving in Las Vegas, we've been involved in many local charities including Shade Tree."
Anything about yourselves others might be surprised to know?
MC: "I'm a nerd. Wait, I think they already know that."
DS: "My friends are never surprised about anything I do, but others might not know that I'm quite different from the character I play on stage."
WH: "Most people are surprised that I am shy offstage."
By Callie Thomas
"Imagination is more important than knowledge." – Albert Einstein
As children, it's easy for us to become fascinated by the smallest of things, like tossing a stone into the water and watching as the rings ripple and fade into infinity. 89074 resident Dr. Navin Twarakavi has taken his fascination with water into adulthood and his career to become the Associate Professor at the Desert Research Institute. His research focuses on understanding how water, nutrients and energy move between plants, soil and atmosphere. He is particularly keen on developing sustainable solutions for agriculture in arid regions.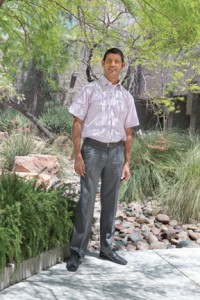 Navin's strong belief in education, particularly with children, is essential to building a productive and aware society that collectively make decisions for generations to come while facing changing environments and limited resources. Navin has taken his quest to the elementary level grade school children in the valley to educate them on the value of water resources.
The Farm Lab is a social network based learning module that Navin runs and has taken to the students in the community to become "virtual farmers" that grow food (vegetables and fruits) based on decisions that are made among a student group. They get advice from the pros (local agricultural professionals and Desert Research Institute scientists) to develop their parcels of the virtual farm. Their decisions are communicated through a web interface and the virtual farmers are able to see changes in their plants above and below ground. Navin is also an active participant in the Desert Research Institute's Green Power Program, which promotes and supports the education of Nevada's K-12 students to encourage advancements in hydroponics. The busy professor took a few minutes to talk about his passion for research, his vision for a sustainable future and his other loves: his wife and two year old daughter.
What do you believe inspired you to become passionate about water and sustaining this integral resource?
"I was inspired as a kid to study the movement of water in the global water cycle while growing up in India, living on an island with water resources that were stressed to adequately serve the community. I find that same stress in the Las Vegas Valley, which motivates me to find solutions for efficient and optimal usage and conservation of available water resources."
Tell us about the Desert Research Institute's Green Power Program.
"Its mission is to promote the advancement of hydroponics – the method of growing plants using mineral nutrient solutions, in water, without soil. I have participated in a Skype lesson with Sandy Miller Elementary School students to help guide their hydroponics project. They then showcased the "fruits" of their labor to the medalist, Dr. Nina Fedoroff, a leading geneticist and molecular biologist who is a pioneering researcher in the field of plant genetics."
What is it like working with the children in the programs?
"I always find that children can come up with seemingly simple questions but are actually very profound and tough to answer! Children have an inherent appreciation of the value of natural resources that seems to fade away as they grow up. As educators and the current torch bearers for our planet, we need to put in a better effort to nurture this intrinsic quality."
You instill this appreciation for nature in your own daughter?
"Yes. Everything that my two year old daughter learns from me is one of my proudest and most gratifying accomplishments. My wife and my daughter are the most important to me."
After a long day, how do you unwind?
"I enjoy playing with my daughter and playing guitars."
Any other hobbies?
"I love running, brewing beer and listening to TED Talks."
What does giving back mean to you?
"Giving back to the community is a responsibility and not an option. We are what we are because of the community in which we live."
By Callie Thomas
Is there an unsung hero in your life? When you think back, there was probably a math teacher, football coach or perhaps a scout leader that made a difference or supported a meaningful event that you'll remember throughout your life. Resident John Holmstrom is one of those heroes, and the students, athletes and scouts that have been under his tutelage have the memories and trophies to help illustrate his influence on their lives.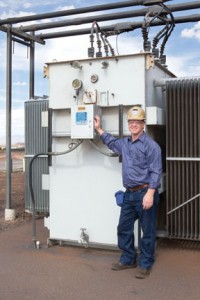 Holmstrom has shared his talents throughout the community in a variety of ways, which has included evaluating challenges and providing flexible solutions that he developed as a project engineer while working with Tronox. In that position, he was responsible for every phase of capital construction projects, from conceptual planning to detailed design, budgeting and permitting, all the way through construction and start up, all for a variety of projects that went beyond the responsibilities of an electrical engineer. Currently, Holmstrom serves as the Maintenance Manager for the Tronox Henderson plant and is responsible for maintenance and repair of all plant operations. As a part of the Tronox company culture, Holmstrom also lends his expertise to Mannion Middle School's Tech Program, which introduces students to engineering fields. In fact, his "official" capacity with the class is Engineer Mentor.
Another title that Holmstrom has earned is that of Assistant Scoutmaster with the Boy Scouts of America Troop 95. He has had an influence on countless kids in the program. In fact, all three of his own children have come up through the organization, and his two sons earned their Eagle rank. He has also volunteered his efforts with the City of Henderson Recreation Department, adding the title of "Coach" to the list. The multi-talented Holmstrom has inspired youth through baseball, softball, basketball and soccer programs. Even years later, former team and troop members and students enjoy recalling those memories. The active resident shares his experiences and the unexpected rewards of being a mentor to so many.
Tell us about your role as "Engineer Mentor" at Mannion Middle School.
"When my daughter was a student at Burkholder Middle School, she took the class and asked for my help when they had to design a city of the future and build parts of the city. In the course of this, I got to be good friends with the teacher, Jackie Welch-Doubeck, and I have been volunteering with the class for about twelve years, first at Burkholder and now at Mannion. Tronox, my employer, also encourages staff to be involved in educational efforts, specifically involving engineering and robotics. It is a huge part of our company culture."
How did you become involved with the Boy Scouts of America?
"I'm a fan of the skills and abilities that they teach kids and young adults. All of my kids came up through the Boy Scouts; my daughter was the first president of Crew 95, a high adventure Venture Crew unit that backpacked, climbed, rappelled, rafted and more. My two boys were active in both the Troop and Crew."
Were your children involved in your decision to work with the City of Henderson Recreation Department?
"Yes. When my kids were in elementary and middle school, I volunteered as a coach. The city's year-round program keeps kids active with an emphasis on fun and participation."
Any experiences with these groups you could share?
"Occasionally, I bump into one of the kids and we talk about a basketball game we had or the moving parts we built for their city model, white water rafting at summer camp or how much weight their bridge model held before it crushed. It's nice to know that we can have a positive, lasting impact while doing something fun."
What accomplishments are you most proud to have achieved?
"My family with the love of my life, my wife Kristy. My two Eagle Scouts and the dozen or so others I got to work with on their path to Eagle, a valedictorian, two Tech Pro class teams that made it to national competitions in Washington, D.C., a hallway lined with team pictures and a pot shelf crammed with team trophies and memorabilia. I am also proud of my position as the Maintenance Manager of Tronox and hope that my civic efforts encourage the staff to remain involved in community service."
Any advice or life inspiration you'd like to share?
"Do good work and do your best. We all get knocked down sometimes, but we need to get back up, help our neighbors up, dust off and move on."
Meet The Neighbor 89144
Kimberly Miles
By Callie Thomas
The path to success is a process. If you subscribe to the idea that we make our own opportunities, then you need to feel successful to attract them. To feel successful, you need to look successful. To look successful, you need to have the ability to dress for the job you want. For many, having access to that type of wardrobe isn't always easy, but if 89144 resident Kimberly Miles has anything to say about it, she will be the voice of the underserved and make a difference, particularly in the lives of women in the community who are in need of a hand up.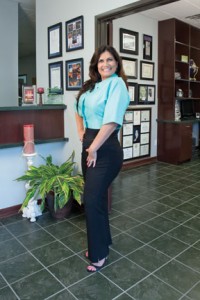 Kimberly Miles is successful, and not just because of all that she has accomplished, although she does own the largest privately-held, woman-owned payroll service bureau in Nevada, TPCHR Payroll Consultants. Her success can also be attributed to all that she has given, freely extending her time, money and compassion to a number of non-profit organizations such as Shannon West Homeless Youth Center, American Heart Association Circle of Red, The Humane Society and Dress for Success of Southern Nevada. But more than anything, Kimberly Miles is successful in life for her exuberance, tenacity and willingness to stand up for what's right. She has not only made an investment in the community in which she lives; she has made an investment in many neighbor's lives, and in turn has helped them obtain their own success.
Miles' zeal for life is infectious and abundantly evident in everything she does. As she says, "I love what I do and do what I love, and I'm always transparent!" Miles talks about her need for giving back to the community she's called home for the past eighteen years, how going vegan has tamed her "energetic vibrations" and why she's anything but typical.
Would it be safe to say that you're a natural cheerleader for all women?
"While my first passion is people and relationships, I'm definitely passionate about girl power, strengthening our womanhood and our divine purpose. My warrior name is Moon Goddess. She helps other warriors to find their path."
So it was natural for you to become involved with Dress for Success?
"I had never been part of a start-up nonprofit. Paige Candee, the founder of Dress for Success of Southern Nevada, approached me a few years back, and I was very cautious as I am usually a behind-the-scenes 'giver' while my for-profit capitalist work is exactly the opposite: up-front and center. I am proud to say I'm on the inaugural board. Dress for Success of Southern Nevada has turned out to be an organization that gives back more than 96% of the gain directly to the women it serves."
How does Dress for Success help Southern Nevada women?
"We help disadvantaged women looking to get back on their feet by providing professional attire, a network of support and career development tools to help them thrive in work and life."
Why is it important for you to be involved in the community?
"I feel blessed that I have the opportunity to be a part of growth and change, and I strive toward bettering Las Vegas' strengths."
You have a very outgoing personality. Is it hard to unplug?
"I literally have to concentrate to 'turn down' my frequency. The vibrations of energy that come from me can be exhausting to others! Changing my diet has taken the edge off. Going with vegan/raw foods now seems to satisfy and relax me. Meditation and yoga also make the list!"
You express your individuality in all you do. Tell us about your favorite Vegas memory.
"After eloping to marry my husband G. Eric Miles in Fiji, we returned and threw a replica of our experience in Fijian rituals alongside the Desert Shores water line. We had a Kava ceremony, flame throwers and fire-breathing acts. Friends and family came from all over the country for the reception and Zowie Bowie hosted an event at Red Rock for us. It was amazing!"
By Callie Thomas
Keeping up with two boys – a six and eight year old – is never easy for any parent, although it would be easy to raise the white flag in pure exhaustion. But 89135 resident and single dad of two active sons Kelly Tate has one motto: never give up! It's a philosophy Tate has enacted throughout his life, even while enduring his share of disappointments. Part of what has made him successful in life and in his career is that desire to keep going.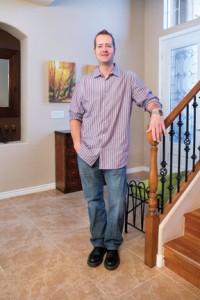 The thirteen year resident has recently demonstrated his perseverance by taking on the challenges of starting and running his own business. After fifteen years working as a CPA for others, he's put out his own shingle. Tate sees it as another opportunity to work closely with his clients and do the best job possible. If starting a new business and raising two rambunctious kids isn't challenging enough, he's also dedicated to helping those in need within the community through a variety of charitable organizations. This includes being the Chair of the Finance Committee for our local Habitat for Humanity affiliate and taking on the role as Treasurer for Susan G. Komen over the past year. Tate's decision to become involved with the Komen organization was a matter close to the heart with his aunt and cousin both suffering from breast cancer. He completed his first Race for the Cure with Komen and has become more determined than ever to continue that effort.
Through it all, his passion remains with his two boys, Pierce and Preston, and ensuring that they have the best childhood possible. Tate talks about his dedication to his family, those in need throughout the community and even his fondest Las Vegas experience, which shot him 160 feet into the air at forty-five miles per hour while overlooking the Las Vegas valley.
What's it like opening your own CPA office?
"It's been huge for me personally. After working for others, it's really nice to put my skills to work out of my own office and continue to define what I want to be professionally and personally. I think going out on my own was a natural progression in my life that was long overdue."
How did you get involved in the community?
"I've met hundreds of clients and made hundreds of contacts in my thirteen years in Las Vegas. It has helped me tremendously in getting to know the community and to get involved."
You've put your finance skills to good use.
"For nine years, I held the position of the Chair of the Finance Committee for Habitat for Humanity. A little over a year ago, I became the Treasurer for the Susan G. Komen organization. I really enjoy doing this type of work. It is rewarding to know that I can use my work skills to help out an organization that really needs it and passes on the goodwill to so many people."
The Komen organization has personal meaning to you?
"I thought it would be a great charity to become a part of, especially having had an aunt and, more recently, a cousin with breast cancer."
You recently participated in your first Komen Race for the Cure?
"It was amazing to me to see the excitement on so many faces just to be affiliated with the Race charity. There were so many people that just wanted to give a little time, effort and money to help such a worthy cause."
You seem to race around with your two boys as well.
"I love getting outside with them, whether it is in the park or watching them play. I have so much fun just watching them grow up and becoming more mature as they get older."
Your way of unplugging is an adventure in the sky?
"One of the most memorable Las Vegas experiences I've ever had was riding the Big Shot at two in the morning. What an amazing ride and view. Such an adrenaline rush!"
By Callie Thomas
You've got to admire someone who has the ability to juggle many things in the air and still keep their wits about them. 89128 resident Mark Mathews is one of those enviable people. By trade, Matthews works full time for Clark County as a Supervising Systems Technician, and as he describes it, he supervises fourteen IT geeks that support nearly 5,000 computers. He is also the Chief Steward of the county's Supervisor Unit for SEIU 1107. Although his job keeps him pretty busy making sure that all systems are go, he also volunteers his time to support a Las Vegas charitable organization as part of the county's leadership role.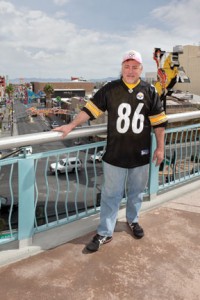 Matthews' choice has been the Susan G. Komen Race for the Cure, the annual fundraising event in which he's been the Operations Chairperson for the past eight years. What that means is that Matthews and the operations team are responsible for all the "stuff" that actually makes the race happen. Every detail from set up to tear down and everything in between falls on the shoulders of Matthews and the rest of the team. Signs: check. Stage: check. Food, banners, barricades, trash cans, sponsor expos, porta-potties, Nevada Highway Patrol, AMR medics, pace cars, survivor recognition; check, check and more checks add up on their "to do" list. It's hard to believe that with a list that long Matthews would consider himself a self-proclaimed procrastinator… with controlled ADD. He said that he has procrastinated again this year, waiting just days before the May event to pull it all together, which he's continued to do flawlessly. The rest of the time he enjoys other passions such as football, particularly the Pittsburgh Steelers as he's originally from Erie, Pennsylvania. Mark Matthews talks about his role with the Komen Race, his yearly football tradition and a couple of things even his friends might not know about him.
How did you first become involved in the Komen Race for the Cure?
"The Leadership Forum (a program sponsored by the county for its employees) encourages team members to provide about forty to fifty hours of volunteer time with various local organizations. I had waited until the last month to do most of my volunteer work when the Susan G. Komen Operations Chairperson at the time talked myself and a friend into becoming Assistant Chairs and said it would amount to ten to twenty hours of volunteer time. His estimate fell a 'little' short, but eight years and hundreds of hours later, I am still procrastinating getting ready for the annual event. Incidentally, the Leadership Forum program not only introduced me to Susan G. Komen, but it was also responsible for me meeting the love of my life, Karen Cale-Powell, a native Las Vegan and reason for me staying in Vegas."
The Komen event is a huge undertaking. Any experiences you'd like to share?
"On the Sunday after the race, you can pretty much find me sleeping about thirty-two hours straight. Actually, it is so wonderful to support the people that work so hard to help so many women and men affected by something they have no control over."
Tell us about your other passion.
"I am a huge football fan. I'm also an avid sports better, so my girlfriend Karen and I started a Super Sunday tradition of going to a 6:30am mass at St. Francis de Sales and then going to the LV Hilton sports book to have a champagne brunch, place a few bets, then go to a local pub to watch the game."
If you weren't in your present career, you would be…
"A high school or college football coach."
Tell us something you think your friends might not know about you.
"They'd probably find it funny that I worked for the Cleveland Browns and Indians for seven-ish years, even though I'm such a huge Steelers fan… and they'd want to know where I get my fireworks for our annual 4th of July extravaganza, but I'll have to leave them guessing."
By Callie Thomas
When you were growing up, there was probably one teacher you had that stood out, whether it was for their teaching style or how they inspired you to learn. Students who attended schools in Las Vegas would probably include 89117 resident and educator Clarice Donnelly on that list.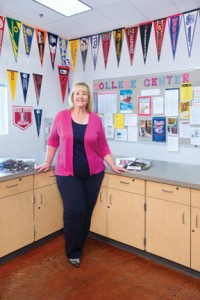 Both Clarice and her late husband Mickey Donnelly trekked from Ohio to Las Vegas thirty-six years ago to become teachers with the Clark County School District. Over the years, Clarice has taught kindergarten and fourth grade, been part of the Reading Improvement Program, worked as an Educational Computing Strategist for two elementary schools, and has opened and served as the Site Coordinator for the College of Southern Nevada High Tech Centers by Palo Verde High School and Western High School. She has also taken on special assignments to train teachers on software to help bring technology into their classrooms. Clarice has also provided counseling services for nine years to middle school students, while her current duties involve serving as Scholarship PLUS Coordinator at The Public Education Foundation.
While Clarice has held her current position as Scholarship PLUS Coordinator for the past two years, she's supported the program for a decade, coinciding with the death of her husband. Friends wanted to honor his memory since he was a counselor at Johnson Junior High School, the school attended by their two daughters, so the Mickey Donnelly Memorial Scholarship was created. Clarice discusses her involvement with the fund along with other initiatives that inspire, nurture and support the youth of our community.
Tell us about the Mickey Donnelly Memorial Scholarship.
"It goes to a senior who attended Johnson Middle School and will be attending college in Nevada. One of the best parts about working with the scholarship program is seeing these students succeed and hearing their stories."
Are there any experiences through your work with the Foundation's scholarship program that you can share?
"Overseeing the Foundation's scholarship program has been such a fantastic experience. This year, we're giving out nearly $800,000 to more than 450 students. For many seniors, the Foundation's scholarships are what make their college dreams possible. One story that sticks out is a 2012 graduate of Cheyenne High School. This student was accepted to Harvard University but was $1,000 short of the required funds to get him there. He was able to obtain the remaining funds through one of the Foundation's scholarships and is now about to start his sophomore year at Harvard."
You are also busy overseeing the Foundation's We R Community Program?
"Yes. The program is currently in fourteen high schools where a high school classroom receives a $5,000 donation and they act as their own nonprofit organization and decide how to grant the funds. They learn how to develop a mission statement and review grant applications. They research, interview and visit nonprofit organizations that support their mission statement, and the class sends grant applications to targeted nonprofits. In May, the school holds an award ceremony to present the funds."
So is it safe to say that you are passionate about education?
"Well, first and foremost, I am passionate about our daughters. I feel fortunate to have Krista and Kara, who both love and like me. I'm also passionate about working with students who are applying for scholarships and seeing them succeed."
What are you most proud to have accomplished?
"Being the first in my family to attend college was a huge accomplishment for my entire family. Moving to Las Vegas with my husband and having and enjoying our daughters are my proudest moments."
If you weren't in the education field, is there anything else you would like to do?
"I have truly said many times if I had my life to live all over again, I would want to be in Las Vegas and be involved in education. I feel so fortunate to wake up and still enjoy going to work."
By Callie Thomas
Imagine what life would be like without passion. It's what spurs athletes to win, doctors to find a cure and men and women to do what's right – whether it be for their fellow neighbor or for their own families. Living without passion is simply not an option for 89123 resident Erika Pike Turner. It's evident in her passion as a wife and mother, in her job as a partner and litigator at Gordon Silver and in her work advocating for abused and neglected children in Nevada's foster care system. In fact, Turner has been awarded many times over for her passion for giving a voice to those that do not have one. She's received the Myra Williams Award for Pro Bono Services for Children, a Senator Harry Reid Commendation for Pro Bono Services and a United States Commendation for Pro Bono Service. She's also regularly recognized by the Pro Bono Project for services that qualify her for the 50 Hours Club and 100 Hours Club.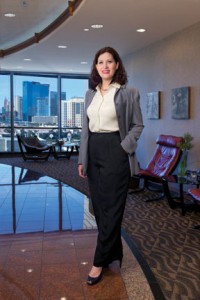 The fourth generation Las Vegan is proud to be making a difference within the community and happily raising a fifth generation of caring, passionate people: her children Alexander and Cassandra with husband Brad. For the past fifteen years, Turner has helped her clients as a commercial litigator by aggressively pursuing their goals in court or through arbitration and mediation. Throughout the last decade she's also provided her extensive knowledge and expertise free of charge to ensure that the children in the system know that the court and the "system" care about their wants, needs and dreams. Erika talks with us about what drives her, working with the Clark County foster care system and how success comes with perseverance and grit.
Why is giving back to the community so important to you?
"There are people that come in and out of Las Vegas, but the core that lives here with an intention to stay need to do something to help make the community better. This is my home and I am happy to volunteer my time."
How did you become interested in working with the Clark County foster care system?
"My sister is a social worker. She works day in and day out with Nevada's abused and neglected children and the frustrations of trying to get them the services or homes they need in the context of our broken and under-funded system. Hearing her stories, I resolved to help. I don't think there is anything as important as helping a child, and the pro bono work I do for the Children's Attorney Project is certainly the most important legal work I do."
Any experiences that you could share?
"There are so many stories, but as a result of my obligation to keep communications with the kids confidential, I can never paint a complete enough picture for people to really appreciate the experience. Suffice it to say, people do horrible things to children, and despite some wonderful people opening up their hearts and homes, there is an enormous need for advocacy to ensure that these children have a chance at a better life."
What accomplishments make you proud?
"I have many accomplishments in my career, most of them involving a client resolving a dispute, but there's no accomplishment better than seeing my kids succeed."
As a fourth generation Las Vegan, do you have a favorite Las Vegas moment?
"I can't pick just one. April 4, 1998 at the top of the Rio (the VooDoo Lounge) when my husband clumsily asked me to marry him; going to Alpine Village restaurant when I was a kid and to Red Rock with my family for a Sunday morning hike and marveling at the beauty."
You have said that with success comes laundry. Care to explain?
"Working so many hours and with a full house, I do an enormous amount of laundry. While it isn't a hobby, it has certainly become a longstanding pastime."