Browsing articles in "Meet Your Neighbor"
If the Ogden name sounds familiar, it's probably because it should. Residents Kema and Jonathan Ogden are a pretty dynamic duo. Not only are they champions in the business world, but they are also champions at helping at-risk kids in the community.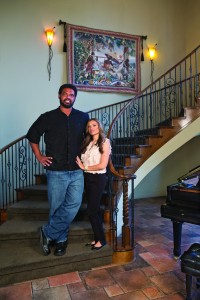 By Callie Thomas
Kema Ogden has owned and operated a successful boxing gym in Henderson for the past six years. The Vegas native has taken her corporate management experience in the hospitality industry and coupled it with and her passion for boxing to create one of the top boxing gyms in the area. Meanwhile, Jonathan Ogden spent over a decade playing in the NFL as the offensive tackle for the Baltimore Ravens and became an eleven-time Pro Bowl selection and nine-time All-Pro. Last year he was voted into the Pro Football Hall of Fame and having played his entire career with the Ravens, was the first on the team to be recognized with the honor. The former UCLA alum also made history after he retired his #79 jersey and became one of only eight from the school to be inducted into the College Football Hall of Fame.
Kema and Jonathan, who are also proud parents to son Jayden and daughter Mya, are proud of their accomplishments, but their development of the Ogden Foundation (www.theodgenfoundation.org), a non-profit organization that helps at-risk kids by providing them with weekly after school enrichment programs, is creating a legacy of support for children and families in the community.
The Mission of The Ogden Foundation is to build self-confidence, self-esteem, and healthy lifestyles choices for low income youth through their academic, mentoring, athletics, and empowerment programs. Kema and Jonathan talk about the Foundation, what it means to them and what they'd be doing if they weren't already deeply satisfied with their work.
Why did you start The Ogden Foundation?
Kema: "Starting a Foundation in the Vegas community is very important to us. Our goal is to promote a healthy body and healthy mind for at-risk children through the weekly enrichment programs. We've adopted two Title One schools in Henderson where we focus on academic and athletic programs."
Jonathan: "Our mantra is 'level the playing field.' It's important that the kids understand the importance of education on and off the field. We also show them the value of being healthy through nutrition and exercise."
What was your vision in developing the organization?
Jonathan: "We want to provide activities that unite the greater Las Vegas community and create a positive, safe, and healthy outlet for at-risk youth. We aim to ultimately provide after school programs throughout the community and a state of the art facility where youth can participate in year round programs including academic, athletic, nutritional/wellness, and personal empowerment."
What is the CA.A.M.P. Ogden Club?
Kema: "C.A.A.M.P. Ogden Club provides various program including Book Buddies, a reading, writing and pen pal program and After School Enrichment, which includes academic and athletic mentoring, health/wellness workshops, life skills and anti- bullying. Our summer Fitness Camp offers challenges, boxing classes and healthy meals."
Any experiences you'd like to share?
Jonathan: "We've seen grades improve tremendously in comprehension, English and Math with the kids that are in our after school literacy program. Also to see them so excited when our professional trainers or athletes work with them makes it so special for us."
Tell us about your upcoming fundraising event "A Fighting Chance."
Kema: "It's a sparring charity event on May 3rd at UFC Gym Anthem to help support our two adopted schools, Robert Taylor Elementary and Jim Thorpe Elementary. We're also having a school supply drive for our adopted schools."
If you weren't doing what you are presently what other job would you like to do?
Jonathan: "I love golf and hop on the course whenever I can so I'd be a Professional Golfer."
Kema: "I'd probably be his caddy (laughs.)"
How many mornings have you gone to your closet and can't seem to decide what to wear for the day? For some, the effort may result in a heap of clothing in the closet or strewn over the bed. Imagine what it would be like if you simply didn't have a closet or a choice of clothes? That is what it is like every morning for thousands of children right here in our community. 89012 resident Patricia Clauretie has experienced first-hand the heartwarming, yet heartbreaking effects of helping children through a program called Operation School Bell, an initiative of the Assistance League where she is a member.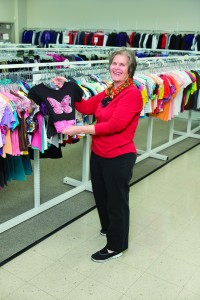 By: Callie Thomas
Helping others comes easily to Clauretie, having lived the small town life in Shepherdstown, West Virginia and later Shreveport, Louisiana. While each of the areas is quite distinct, both offered a strong sense of community and the notion of "pitching in" wherever needed—a way of life she has carried with her to this day. The family moved to Las Vegas in 1988 after her husband Mike accepted a teaching position at UNLV. After her two children Sean and Kevin had grown, Clauretie joined the Assistance League of Las Vegas in 2011 at the invitation of a friend. She was instantly taken with the opportunity to help other children in the valley.
She is an active member and is the Chairman of the group's Technology Committee in addition to helping at the Assistance League Thrift Store and Operation School Bell program. Each year thousands of children from kindergarten through eighth grade may not attend school because they do not have adequate clothing. Last year Assistance League of Las Vegas provided clothing for more than 8,300 children through Operation School Bell. Patricia Clauretie shares her experiences with the program and tells us why giving back is so important.
How has the small town lifestyle influenced you here in Vegas?
"The population of Shepherdstown was 2,500 in 1972 when we lived there. I quickly learned that everyone had to pitch in to make things happen. If someone got sick, you took food…no one had to ask. If someone needed to raise money for a cause, you chipped in without a thought. Our experiences in Shreveport were much the same but included a heavy emphasis on family first. So when my husband chose to retire from UNLV and our children were grown, I wanted to get involved with an organization that focused on the needs of the valley children and Assistance League does just that."
What is your role with Assistance League?
"As a member I work a number of shifts in the Thrift Shop or in Operation School Bell. As Chairman of the Technology committee I am responsible for keeping all the computers at peak operating level and helping other members with any technical issues."
Any experiences you'd like to share?
"Operation School Bell provides school clothing, a warm zippered hoodie, underwear, socks, athletic shoes, a book of their choice, hygiene items and school supplies to children from families in need that are referred by the Clark County School District. The children come to our facility and as a volunteer I have helped them go shopping. My first experience was with a young girl and while we began picking out clothes for her to try on, she kept asking me if she really could pick out anything she wanted. I would politely answer yes and she responded that she had never been shopping before where she could have anything she wanted. How does that not break your heart?"
What does giving back mean to you?
"It's a way for me to acknowledge the many blessings I have by helping others less fortunate."
Do you have a life inspiration or quote you'd like to share?
"It's from my husband Mike: Life is a great teacher but sometimes the exam comes before the lesson."
By Callie Thomas
If you weren't in your present career and could pick any job at all, what would you choose? 89144 resident Brigette Kelly-Kirvin, had an opportunity to explore just that after working as a successful marketing executive, first in Los Angeles and then in Las Vegas. It's interesting how life can actually guide you toward a path you didn't expect. Brigette's journey would lead her not only to becoming a wife and mother of two, but also provide the opportunity to leverage her passion for running marathons to serve as a board chair for a non-profit program called Girls on the Run.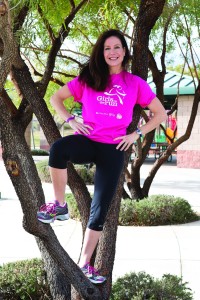 Although a longtime Los Angeles resident, the 1994 Northridge earthquake in Southern California was enough to motivate the Kirvins to move to Las Vegas. After working for IBM, NeXT Computer and the Motion Picture division of Eastman Kodak in L.A., Brigette continued her marketing career in Las Vegas as Marketing Director for Steven Spielberg's DIVE restaurant, followed by launching the Coca-Cola Company's retail store and attraction on the Las Vegas Strip. When her second child was on the way, she decided to take a hiatus from full-time work and take on "special" projects. The projects that came to her were family-focused and assisted the community. Instead of leading marketing teams, she found herself in charge of Girl Scout troops, running marathons for children's charities and becoming PTO President at her children's school. It also led her to the Girls on the Run Program, which provides 3rd through 8th grade girls with 12 weeks of fun, fitness and life skills training through interactive lessons and running games. The program has provided Brigette Kelly-Kirvin with the opportunity to combine two of her passions. She talks about giving back, how it has affected her life and inspired her own family to serve the community.
How did you get involved with the Girls on the Run Program?
"The exposure to kids as a classroom volunteer and parent leader helped me to tap into a passion that I didn't know existed during my corporate life. My passion for running and for children collided when I discovered the Girls on the Run local chapter. I volunteered as a coach for several seasons and Director of their 5K. I accepted a Board of Director's position and now act as Board Chair."
Tell us about the 5K event.
"The program culminates with a community 5K run that celebrates these girls and their accomplishments. This spring, the 5K is April 27 at Kellogg-Zaher Soccer Complex in Summerlin. Anyone can come out and run with us and we're always looking for volunteers too. Visit www.girlsontherunlv.org for ways you can help."
Any experiences you'd like to share?
"Being a coach and race director feeds my soul. To lace up my shoes alongside pre-teen girls and watch the perils of adolescence melt into the pavement with every lesson and every foot strike gives me boundless joy. Crossing a 5k finish line for the first time is life-changing for many of these girls. Witnessing them grow in character and confidence along the way is life-changing for me."
Any other organizations you support within the community?
"Another group that is near to my heart is the Downtown Boys & Girls Club. It's located in one of the most impoverished areas of Las Vegas. A group of us help keep its doors open by identifying partners to help with funding issues. I enjoy organizing special events."
What are you most proud to have accomplished?
"Raising two amazing kids, Emily and Jack with my husband Dave Kirvin, growing Girls on the Run Las Vegas from eight girls a few seasons ago to over 100 today and helping the Downtown Club."
Has your involvement with these organizations influenced your own family?
"There's never been a Las Vegas Girls on the Run 5K that didn't see the entire Kirvin family out in force. It's all about a labor of love, and building a family legacy of service is important to me."
By Callie Thomas
There's nothing that would make a parent happier than to know they've reached "superhero" status in their child's eyes. For 89135 residents Brad and Kristen Mainor, it is their 9-year-old son Sullivan (Sully) Mainor that will be forever remembered as the superhero in the family. Their son was killed in a tragic accident on January 15, 2013. Rather than focusing on the circumstances of his death, the Mainor family and friends are keeping his memory alive by helping other children in the community in his honor.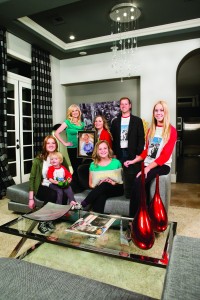 Sully Mainor is remembered for his kindness, giving nature and contagious laugh. Even at an early age he always wanted to give his own money to the homeless and hungry throughout the valley. His former school, Ober Elementary, has created a special award in his honor called "The Sully Mainor Kindness Award." Students can receive the award for being exceptionally kind and caring throughout the school year.
As a means of dealing with their grief, the family decided to make a donation in his honor to organizations that would benefit other children on the 15th of each month. Sully's favorite thing in the world was superheroes, particularly Spiderman and The Hulk. Their friend's 9-year old daughter came up with the "Superheroes 4 Sully," which has become the name of their charitable giving. Their mission became clear: They would collect new superhero themed toys, clothing, blankets, etc. and give them to needy charitable organizations including the KLUC Annual Toy Drive, Peggy's Attic, Boys and Girls Clubs and others. Superheroes 4 Sully's first donation was to the Ronald McDonald House on February 15, 2013. Since that time, they've received about 5,000 dollars in donations that benefitted more than 1500 children across the valley. Brad and Kristen Mainor talk about coping by giving, the generosity of the community and taking one day at a time.
How does it feel to help other children in the community?
Kristen: "Seeing children light up when they are allowed to pick new clothes or a new toy is heartwarming and would make Sully proud."
Brad: "Being born and raised in Vegas, it means a lot to help our local kids. Personally it helps to pass each day without Sully, knowing we are remembering him in such a positive way, giving as he loved to do in this city that he loved."
How are donations distributed?
Kristen: "The bulk of the clothing and toy donations go to Peggy's Attic and are given to foster kids in the valley. Many come through the court system with only the clothes on their backs. They get to pick something new and are told the items have "Sully Power." The kids fighting cancer are given Superhero blankets and soft pillows."
You made a big impression at the KLUC Toy Drive last December.
Brad: "Through word of mouth and social media, our tiny charity managed to collect 10 bikes and over $500 worth of toys which were donated to the KLUC Toy Drive."
Kristen: "It touched us to receive donations from strangers and friends alike who had followed our first grief-stricken year and were moved to help and share in honoring Sully by helping the community. There are wonderful, generous people in Las Vegas."
What are you most proud to have achieved?
Brad: "One of our proudest moments was when our daughter Taylor initiated a Superheroes 4 Sully Donation Drive during senior week. At the assembly Taylor and her sisters Hannah, Sydney and Avery stood up and spoke to the student body about Superheroes, Sully and the kind of brother he was. To see our daughters honor their brother and get involved in this charity fills us with such pride."
What does this charity mean to you?
Kristen: "It is a way to give back, honor our son and fill the hole in our lives left by his death. Big or small the act of giving in Sully's name will be our monthly tradition. We thank the community for their support both emotionally and with contributions and hope to spread Sully Power for years to come."
By Callie Thomas
There's an old Irish saying that, "You never plow a field by turning it over in your mind." Resident Terry Murphy is definitely an action girl. With a Masters Degree in Sociology, the study of how people function in groups (which can be as small as a family unit or as large as society as a whole), she began working in Government Affairs for the Southern Nevada Homebuilders Association back in 1989. That was at the height of the desert tortoise predicament. The species was listed as endangered and efforts to protect it threatened to bring development and other economic activities to a standstill. Murphy was instrumental in forging a compromise among parties and helped to establish conservation mechanisms that allowed development to continue. Years later, she lent her expertise to the Clark County government before starting her own business, which focuses on helping private companies communicate with local governments. In addition to her consulting business, she's currently the Honorary Consul to Ireland for the State of Nevada.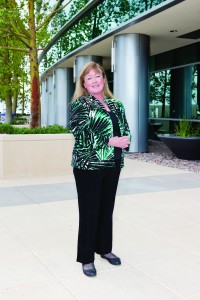 Murphy also shares her gifts to the community in other ways. As President of the Downtown Las Vegas Alliance she's helped to establish growth in the downtown area. As a Community Advisory Board member of The Smith Center, she's been a part of launching and executing the project to fruition and, in effect, making the arts accessible to everyone. Murphy is also a big champion of Casa De Luz, an organization that serves children and families living in a challenged neighborhood downtown and The Center, which provides counseling services to the LGBTQ (Lesbian, Gay, Bi-sexual, Transgender and Questioning) community. Terry Murphy discusses the growth of Downtown Las Vegas, her support of community organizations and what it's like to be Honorary Consul to Ireland.
How did you get involved in the Downtown Las Vegas Alliance?
"I've worked in downtown on and off since 1991. I've always been an advocate of redeveloping downtown and have participated in lots of projects over the years that have come to fruition. I love watching the growing sense of community downtown and seeing people's surprise at what's going on here after not visiting the area for a while."
How has the Downtown Las Vegas Alliance helped the city?
"It's growing exponentially and is at the tipping point toward becoming an influential public policy voice for business downtown, as well as a resource for some of the other organizations like the 18B Las Vegas Arts District."
Tell us about your involvement with the other community groups.
"I enjoy being on the Advisory Board of the Smith Center. The arts were a large part of my growing up in New York and it was a missing ingredient here for a long time. It's like a "coming of age" for Las Vegas. Casa De Luz is a community based in love, and the organization is literally changing lives. The Center is dear to my heart primarily because I'm a firm believer in and advocate for human rights. The Center provides a place for youth who may have nowhere else to turn."
What's it like being Honorary Consul to Ireland?
"I assist Irish citizens when they have issues here in Nevada, whether it's a lost passport, severe illness or sadly, the death of a loved one. I also help promote the Republic of Ireland as a tourist destination. It's probably the greatest honor in my entire life."
What does giving back mean to you?
"I believe we are all given certain gifts or talents and our lives aren't complete without sharing them. At least mine wouldn't be."
What are you most proud to have achieved?
"First and foremost would be my daughter who is a happy, healthy adult. Beyond that, everything else is icing on the cake."
What do you think makes you successful?
"I don't think about being successful. I think about getting things done. And I very much enjoy the journey."
How many times have you heard about the importance of looks? As Americans we take for granted much that affects our overall appearance and well-being. In third world countries it's not about looks, but rather, the ability to survive. 89117 resident Stephen Gordon has made a career of performing surgeries that not only improve appearance, but also improve lives.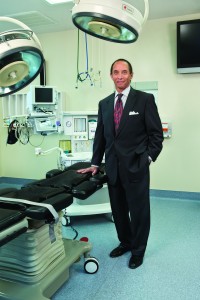 Gordon completed his Plastic Surgery residency at Emory University in Atlanta and later entered private practice there. For the first five years he was on staff at 12 hospitals and on call every night. He kept busy with trauma and reconstructive plastic surgery until he made the decision to develop a cosmetic surgery practice. Since moving to Las Vegas over fifteen years ago, Gordon has lent his expertise to the community and to programs that make a difference. He has long thought it better to give of his time and assistance to ensure that the contributions he makes directly benefit the people he serves.
At home in Las Vegas, he volunteers each month as a ringside physician for amateur boxing. He also travels to places like Africa and other third world countries on medical missions to help the people who would have no way of obtaining treatment for deformities such as massive keloids, cleft lip and palate as well as burn scar atrocities and reconstructive challenges. As a result of his travels, he and his wife have founded The Stephen and Lori Gordon Plastic Surgery Foundation to provide surgical care and consultation to third world countries. Gordon provides insight into the widespread needs in these areas and why he is so passionate about involving other medical professionals.
Tell us about The Stephen and Lori Gordon Plastic Surgery Foundation.
"We are currently seeking not-for-profit status so that we can receive funding and material contributions and participation by other medical professionals to help those in need. I am regarded as a goodwill medical ambassador and the capacity in which I perform ranges from training and performing medical procedures and surgeries to providing integral information about the facilities I have visited along with recommendations on improving services to the community. For example, I identify and report unsanitary conditions such as insufficient running water, or over-extended physicians."
Any observances you'd like to share about your medical missions?
"African medical facilities are still 100 years behind the medical community in the United States. There is little or no formal medical training beyond six months in pediatrics, internal medicine, OB/GYN and surgery (two years). As a barometer, an American surgeon trains for a minimum of five years after medical school to become a general surgeon. Part of my mission there was to train the local doctor in plastic surgery techniques such as skin grafting, but he missed most of the surgeries because he was seeing as many as 200 people a day in his emergency clinic."
Based on your findings, are burn accidents prevalent in Africa?
"Those living in small villages have to pump water from a well, carry large buckets to their hut and then sterilize the water over an open fire in order to have drinking water. Practically everything they consume is prepared this way so there are many burn victims. Most of the time the victim lives with a permanent disability or disfigurement because they do not have access to appropriate timely medical care."
How does it feel to have helped so many in need?
"Despite many hurdles, it was rewarding to repair an eleven-year-old girl's cleft lip, or to remove a massive keloid around a handsome, yet depressed, twenty one year old man's neck. From that moment on, I never saw them without a smile on their faces."
What does giving back mean to you?
"Not only is it necessary for community survival and growth, it is a spiritual principal that you reap what you sow."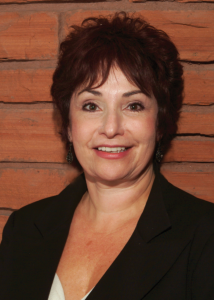 You may not think much has changed since featuring Judi almost seven years ago; after all, she is still the President of The Public Education Foundation. But implementing bold strategies to improve education requires innovation, something Judi knows much about. The Foundation has helped students realize their dreams in many ways. In addition to investing in early childhood and family engagement programming, the Foundation's Scholarship Program awarded more than 440 scholarships – totaling nearly $1 million- this past year alone. Programs including Teacher EXCHANGE™, a green initiative that distributes books, office supplies and other material – frequently headed for landfills – to valley teachers brings much needed supplies to the classroom, and the Foundation's Artists 4 Kidz initiative, developed in association with the Clint Holmes Foundation and other performing artists, is providing students with meaningful visual and performing arts experiences.
But the Foundation's Leadership Institute of Nevada is what Steele feels is a real game changer for the future of education. "To effect real change in our schools we must develop entrepreneurial leaders who are strategic thinkers and demonstrate the courage to execute innovative solutions and produce results," she says. "Through exposure to national thought leaders and collaborations, the Leadership Institute of Nevada is developing a statewide network of great leaders who are capable of transforming our public schools." For information, visit www.thepef.org.
When the great recession hit hard in Las Vegas, Paige Candee decided to make a difference for out-of-work women by founding our city's affiliate of the international organization, Dress for Success, in 2009. Shortly thereafter, Paula Lawrence joined the Board of Directors, only to leave her post for a permanent position as the organizations Executive Director. With these two women at the helm, and the help of countless volunteers in the community, the organization has launched more than 1000 women on the road to self-sufficiency. "I founded DFSSNV with the intention of empowering women and helping them gain the skills necessary to not only stay employed, but to build careers and become role models to their children," says Paige. "We have definitely done that through our suiting program that clothed more than 600 women in 2013 alone, and our job skills training and retention programs."
Utilizing innovative fundraising ideas like their "Little Black Dress Club", as well as signature social events including the annual Power Walk, Derby Rose Champagne Luncheon & Fashion Show and Diamond Dig sponsored by M.J. Christensen Diamond Centers, the group has big plans for the future. As Paula enthusiastically proclaims, "With the continued support of the community, Dress for Success Southern Nevada will help thousands of women find the spark that ignites their future. The years ahead are very bright for women looking to become self-sufficient." To find out more, visit www.dressforsuccess.org/southernnevada.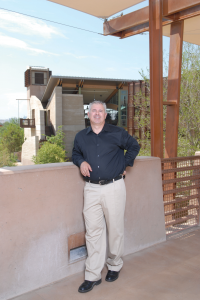 With a passion for sustainability and eco friendly initiatives, Jeff was instrumental in developing the Spring Preserve's master plan prior to its opening in 2007, and also designed the Desert Living Center at the preserve. Today, this award winning facility is viewed as a cultural institution that prides itself on being a community leader in environmental stewardship, while offering interactive exhibits and events that entertain the masses. Influencing ecological initiatives around the globe, the preserve is toured and studied by building professionals and environmental organizations from around the world, making it a leading international example of sustainable architecture. Never has a public utility taken on such a bold and visionary task to transform its community with such a rich and culturally diverse resource, and Jeff is proud to be a part of it all.
"Through my continued engagement with the Springs Preserve I have been incredibly fortunate to be exposed to countless professionals, organizations and leaders in the green industry. It has allowed me to work on numerous other deep green projects in the area, including the Corn Creek, Santa Monica Mountains National Recreation Area and Spring Mountains visitor centers, as well as the Discover Children's Museum. I am honored to be associated with the project and proud that the Springs Preserve has the ability to influence future generations about appropriate decisions required by the community of tomorrow." Visit them at www.springspreserve.com.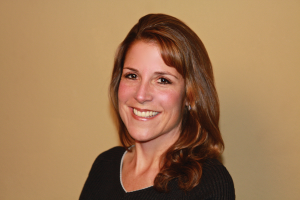 You can have all of the research in the world, but if you don't have public policy to implement it, it doesn't matter. This is the mindset of Stacey Escalante, the volunteer Media Chair for the American Cancer Society Cancer Action Network (ACSCAN). Along with other passionate voices, Stacey, a Stage III melanoma survivor, played a pivotal role in getting Senate Bill 267 passed this past October. The ground breaking law makes Nevada one of only three states in the nation to completely ban the use of tanning beds by anyone under the age of 18 years old. It's a personal victory for Stacey, considering the chances of being afflicted by melanoma are drastically increased by UV exposure from tanning beds, but she's just getting started.
"Getting involved with ACSCAN was such a blessing after my own diagnosis and subsequent remission. It's a natural fit for me. As a cancer survivor, former broadcast journalist & a political science major (from UCLA), lobbying on behalf of cancer patients is right in my wheelhouse. I absolutely love it!" For information, visit www.acscan.org/nevada.